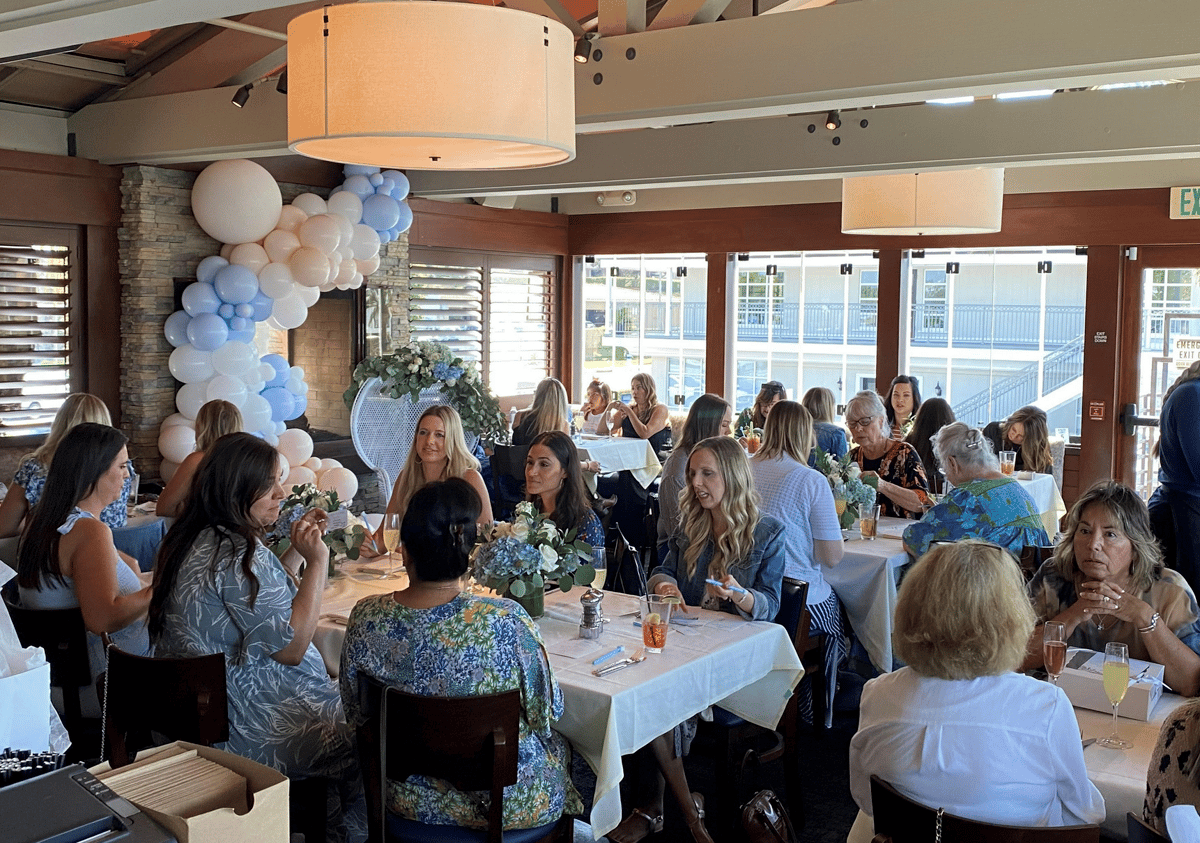 Host Your Graduation Party at Tavern House
Host Your Graduation Party at Tavern House
Students who are graduating from high school, college or grad school have worked hard and their dedication deserves a special celebration. At Tavern House, we are committed to making the occasion unforgettable. If you are looking for an upscale setting for your graduate, our sophisticated ambiance and fine dining menu are the perfect match.
Delight your party of guests with a beautiful evening and delicious food as you honor the achievements of your graduate.
Check out some of the reasons you should book your graduation party at a Tavern House.


Book a Private Dining Room for Your Graduation Party
Tavern House offers intimate private dining rooms to celebrate special occasions, like earning a degree. Depending on the size of your guest list, Tavern House has a variety of private dining options to suit your needs. Whether you host an intimate affair or a larger bash, the possibilities are endless. Surrounded by breathtaking views of Newport Harbor, Tavern House is the perfect place to host your graduation dinner.
Our dedicated team of experts is here to offer you the best food and service to wow your guests and tickly their taste buds. Your friends and family will enjoy having their own designated servers through the event to make them feel like a real VIP!
Kick off the event with any one of our unique hors d'oeuvres. Enjoy a succulent dinner and be sure to end the meal with your choice of one of our fabulous desserts. If you prefer, we are perfectly fine with you bringing your own cake to the event!
Our private room is available year-round complete with stunning bay views, large stone fireplace and complete privacy and seats up for 50 people. With such a scenic location, Tavern House lends itself to ample photo opportunities to capture those memories for a lifetime to come.
Of course, our team understands that you will probably want to decorate the room to perfectly suit the graduate. At Tavern House, we go to great lengths to make your event special.


Appetizers for Graduation Party Guests
When hosting a party, we all know that food is a key component to keeping your guests happy, to making great memories and to moving the conversation along. We offer a wide selection of incredible Starters & Share Plates, including our crowd-pleasing Coconut Crusted Shrimp or Grilled Filet Mignon Steak Skewers topped with Roasted Mushroom, Pearl Onions, Béarnaise Sauce, Crispy Onions… Seriously though, have you tried these? Oh My WOW! You certainly should.
And if you are really looking to get your guests' juices flowing, be sure to indulge in our Terrine of Duck Liver and Cognac Mousse. Elegant, decadent, savory. Just YUM.
Succulent Seafood and Signature Steaks Entice the Palate
One of the many wonderful things about hosting a graduation party with Tavern House is our delicious selection of fresh seafood, sizzling steaks and tantalizing burgers.
From comfort foods like Fish & Chips and Buttermilk Fried Chicken to fancier options like Petrale Sole Amandine and 'French Onion' Filet Mignon, we have a dish that will delight even the pickiest of eaters. We also offer a flavorful pork chop, as well as chicken options.


Hand-Crafted Cocktails to Celebrate the Graduate
While alcohol might not be suitable for every graduate (and yes, we check IDs), your older guests will love our hand-crafted cocktails.
Our Signature Cocktails Set Us Apart From the Rest

• SKINNY B: Partida Blanco, Fresh Orange, Lime, Cucumber, Mint, Muddled Citrus Juice
• OC Sunset: Casamigos Blanco Tequila, Pomegranate, Blood Orange Juice, Muddle Serrano, Tajine Rim
• Dusty Rose: Effen Rose Vodka, Honey & Strawberry Infused Syrup, Citrus
• Pretty In Pink: Ketel One, St-Germain, Lemon Juice, Strawberry Puree
• The Aviation: Sapphire Gin, Luxardo Maraschino Liqueur, Creme de Violette, Citrus
• Smoked Maple Mark: Maker's Mark Bourbon, Grand Marnier, Maple Syrup, Orange Bitters, Wood Smoked tableside
• Titos Lemonade: Tito's Gluten Free Vodka, Housemade Lemonade
• Butterfly Garden: Ketel One Citron, St. Germain, Lemon, Honey, Edible Flower
• Rum Runner: Mt. Gay, Malibu Rum, Pineapple, Orange, Allspice Dram
Our Margaritas Hit the Spot Every Time

• Tavern Margarita: Real Del Valle Blanco Tequila, Triple Sec, Lime Juice
• Watermelon Margarita: Teremana Blanco Tequila, Cointreau, Fresh Lime Juice
• Blood Orange Margarita: Codigo 1530 Rosa, Aperol, Blood Orange Juice, Fresh Lime, Tajin Rim
• Cadillac Margarita: Codigo Reposado, Lime, Agave Nectar, Grand Marnier
• Mango Margarita: Don Julio Blanco, Lime, Mango Puree
We've Put Our Own Spin On Some Classics

• Tavern Mary: Tito's Gluten Free Vodka, Sweet & Smokey House Made Mary Mix, Jack Cheese, Pepperoncini & Pepperoni Garnish. Served with a 'House Beer' chaser
• Moscow Mule: Tito's Vodka, Lime, Splash of Soda
• Old Fashioned: Woodford Reserve Bourbon, Orange Bitters, Luxardo Cherry
• Blood Orange Cosmo: Ketel One Orange Vodka, Blood Orange juice, Lime Juice, Cranberry
• Ronnie T's Espresso Martini: Ely Absolut Vodka, Espresso, Baileys Irish Cream
• Blackberry Mojito: Plantation Artisanal Rum, Yuzu, Mint, Citrus
• Desert Sage Martini: Ketel One, Solerno Blood Orange Liqueur, Agave Nectar


No Evening is Complete Without Dessert
By the end of the meal, your guests will think their taste buds need a break from the decadence but they can't stop there! Oh no… you simply can't stop there! There is dessert to be had!

• Bananaggedon: (Serves 2 or more) Butter Pecan Ice Cream, Candied Pecans, Banana Pastry Cream, Fresh Bananas, Toffee Crumbles, Salty Caramel Sauce
• D's Carrot-Walnut Cake: Cream Cheese & White Chocolate Frosting
• New York Style Cheesecake: White Chocolate, Fresh Strawberries
• Dark Chocolate Mousse Tort: Cointreau Cream
The Premier location on Balboa Harbor offering stunning views, ambience, food and service
Its beautiful Harbor view location is warm, comfortable and stylish...a place for a casual lunch, relaxing dinner, weekend brunch, happy hour or late-night snacking. It represents a beach and water oriented lifestyle that many locals enjoy in the golden triangle....Cabo, Hawaii and Newport Beach. The seafood-oriented menu offers a collection of classic and creative dishes prepared with the highest quality ingredients including organically grown produce, sustainable and properly harvested seafood, and humanely raised poultry and livestock.
Accommodating up to 50 guests and overlooking Newport Harbor, it doesn't get much better than Tavern House. If you are hosting a graduation party, this tried-and-true Newport Beach restaurant takes the stress off of planning. With multiple seating options, a large stone fireplace and operable windows and skylights, guests will love the elegant, coastal space. From tray-passed hors d'oeuvres to custom menus created by Chef David Wilhelm, all menus offer the highest-quality all natural and organic ingredients. Buyouts of the entire restaurant are available, as well as offerings for corporate events and presentations. Look no further, Tavern House is the Newport Beach destination family, friends or coworkers will all love.